Wiedenmann Care Machines
Change at the top
Jürgen Wiedenmann, managing partner of the machine manufacturer Wiedenmann GmbH in Rammingen near Ulm, is retiring from the company at the age of 60. His brothers will continue to run the family business, and keep up the focus on innovation and customer benefit.
The company finds itself well prepared for this step. The three sons of the founders, Georg and Gertrud Wiedenmann, have already managed the business in personal union up to now. The previous commercial and market-related tasks of Jürgen Wiedenmann are now shared by Horst and Uwe Wiedenmann. In the course of this reorientation, Oliver Matthes, who has been working as sales and marketing manager for two years, now reports to Uwe Wiedenmann.
Wiedenmann is considered a reference company in the industry. Hardly any other manufacturer offers a comparable program of machines for professional turf care, dirt removal and winter service.
This could not have been foreseen in 1964, the year the company was founded. But Wiedenmann already turned the market upside down with his very first product. To this day, no crisis has been able to slow down our drive. On the contrary, a constant stream of new, innovative products continues to help operators of sports and leisure facilities as well as local authorities to cope with their diverse tasks. And even in areas where no mechanical aids were employed in the past, such as the Core Recycler, a machine that recycles waste during deep aeration of the turf. This equipment does such a good job at the task that it not only saves costs, but also generates income. Productivity is claimed to be a key feature of the machine range.
The brothers have been running the business for over 20 years. During this time Wiedenmann grew into a group of companies with 245 employees located at three different sites. About three-quarters of the annual turnover are generated abroad, on all continents. Every year, a two-digit percentage of the turnover flows into research and development. A great deal is invested in the workforce. Numerous patents, a dense dealer network, and a strategically high delivery capacity should continue to contribute to securing the company's competitive edge in the future. Learn more about the firm and its products at Wiedenmann.de on the internet.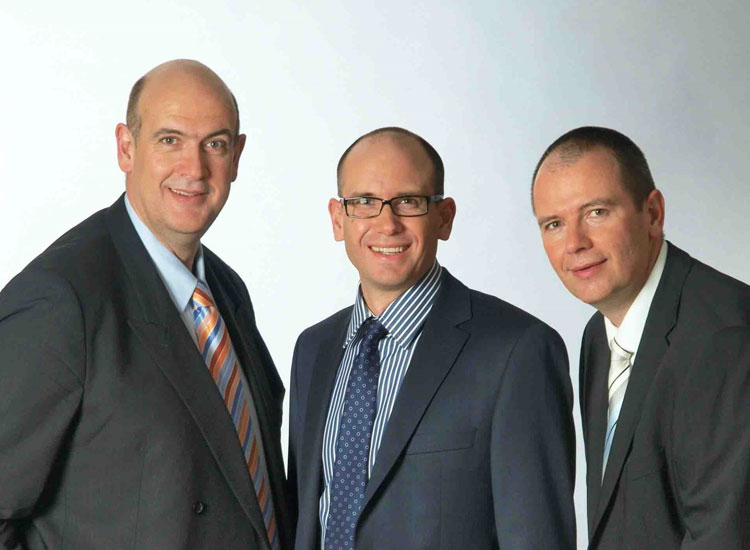 Photo caption:
Managing the business of the Swabian machine manufacturer Wiedenmann GmbH until today: Horst, Uwe and Jürgen Wiedenmann (from left to right). With the retirement of Jürgen Wiedenmann, his brothers take over the management of the company in dual leadership