Extremely stable for heavy-duty continuous use.
Dead plant parts, leaves or superficial roots develop thatch on the soil surface.
The parallelogram guided TERRA RAKE eliminates this problem quickly and efficiently. Due to the high travel speed of 10 to 15 km/h, the scarifying tines undergo aggressive vibrations that pull the thatch out of the sward and place it on the surface.
The tines are arranged in 4 rows to allow blockage-free scarification between the individual tines. The two-part unit is moved from the working position to the transport position by hydraulic cylinders. Foldable in working widths of 3.50 m and 4.60 m. In the trailed version, the device is brought into the transport position via an electric spindle.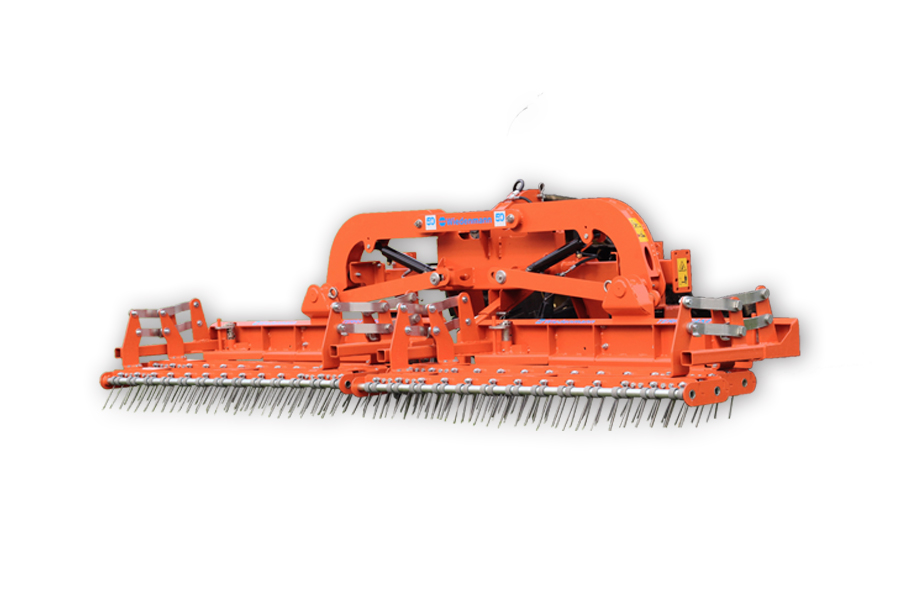 TERRA RAKE Natural Turf

| | |
| --- | --- |
| Working width: | 170 / 230 / 350 / 460 cm |
| Row spacing: | 16 mm |
| Speed: | 10 – 15 km/h |
| Weights: | 162 / 188 / 560 / 660 kg |
| Towing capacity: | 9 kW/m working width |
| Warranty: | 5 years no broken tines |