Large area mower for attachment to large compact tractors and agricultural tractors in a detached construction (front- und rear -mounting)
The combination of the RMR 230 H front mower (alternatively RMR 180 H) and the duplex mower at the rear, which consists of two RMR 180 H side mowers connected by a frame, gives the TRI CUT an incredible working width of 490 cm.
In the front, two independent, movable decks with two blades each ensure extreme versatility and ideal ground hugging. In addition, the front attachment provides the driver with optimal orientation and tracking accuracy.
The two rear mowers are equipped with three blades each, for a smooth, clog-free flow of grass. Drive is via the 540 rpm rear PTO to a transfer gearbox mounted in the connecting frame. From this, the side mowers are engaged and disengaged independently via a magnetic clutch, which can also be done under load. The lifting valve and magnetic coupling are switched via sensors and control electronics. In addition, there is a mechanical road safety device.
The TRI CUT's broken-down design makes it easy to manoeuvre through narrow spaces and is the best choice for all users who often need to transport the mower from A to B.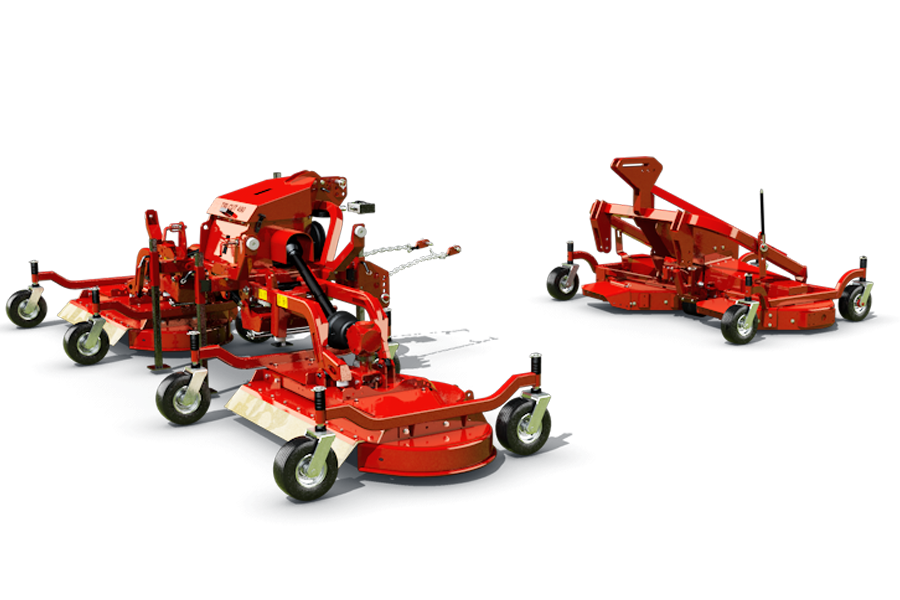 TRI CUT 490

| | |
| --- | --- |
| Cutting width in cm: | 490 |
| Drive: | |
| Weight in kg approx.: | 980 |
| Gauge wheels: | foam-filled tires 11 x 4.00-5 |
| Cutting height in cm approx.: | 2,5 – 11 |
| transport width in cm approx.: | 240 |
| transport high in cm ca.: | 260 |