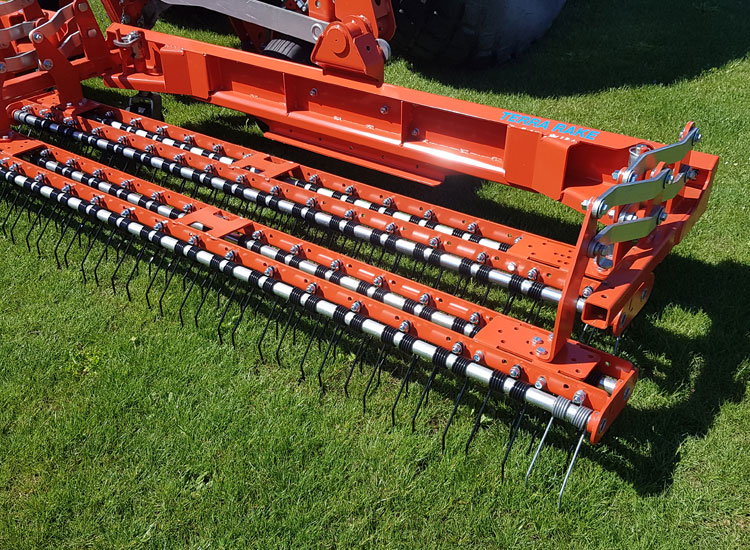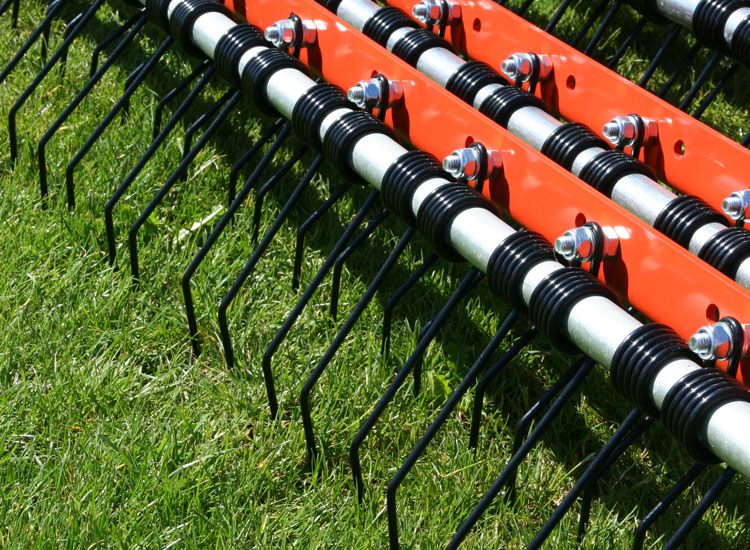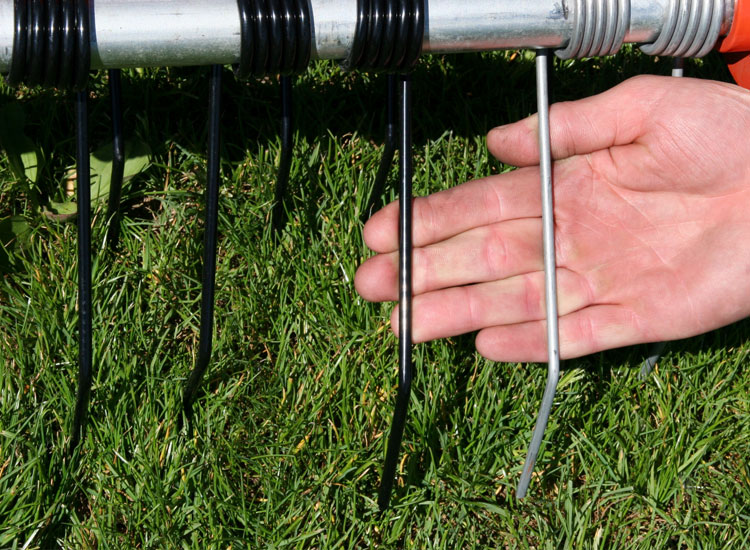 Scarifier upgraded
Stronger spring tines for hybrid turf
Wiedenmann has introduced new spring tines for the Terra Rake series of scarifying harrows. They are particularly strong and have been developed not only for hybrid lawns.
Especially in the professional sector, mixed turf pitches are increasingly being built, consisting of natural grass and "soaked-in" synthetic fibers. Many stadiums are equipped with them. Visually hardly recognizable as such, hybrid turf offers a good combination of resilience and softness during play. Proper care is essential here, as is generally the case on any turf field.
Particularly important is the regular pass with implements such as the Terra Rake on the tractor. Its metal tines pull the organic dead material out of the turf pile. The more "aggressively" the fibers are combed through, the more productive this de-felting is.
Wiedenmann has therefore increased the pressure: The new spring tines offer 50 percent more stiffness, which the manufacturer has achieved in material thickness and winding design. Now the tines run with higher contact pressure, move better and are more resistant to dirt. The new spring tines can be easily retrofitted on existing equipment, including older models. They are available in stores and in the webshop at www.wiedenmann.de.
Download:
https://www.pressways.de/service/wiedenmann20federzinken.zip
This PR complete with photos and addresses
https://www.pressways.de/service/wiedenmannterraraketraktor.jpg
https://www.pressways.de/service/wiedenmannterrarakebreit.jpg
https://www.pressways.de/service/wiedenmannterrarakehoch.jpg
Caption: Wiedenmann's Terra Rake in action: the harrowing pulls the felt out of the lawn surface (Photo: Wiedenmann)
https://www.pressways.de/service/wiedenmannfederzinkenvergleich.jpg
Caption: The new black spring tines are stronger, offer more room to move and get less dirty (Photo: Wiedenmann)
https://www.pressways.de/service/wiedenmannlogo.png
Company logo of Wiedenmann GmbH from Rammingen near Ulm, specialised in machines for green maintenance and dirt removal (Photo: Wiedenmann)
Contact:
Author, editorial contact and specimen copy
Mr. Björn Hoffmann
Telefon +49 (0)521 – 260 2513
Mail wiedenmann-newsroom@pressways.de
Pressways PR, Ecos Office Center
Herforder Str. 69, D-33602 Bielefeld
Contact person in the company
Mr. Volker Zippel
Wiedenmann GmbH
D-89192 Rammingen
Tel 07345 – 9530
Fax 07345 – 953233
Internet www.wiedenmann.com