Greens TERRA SPIKE® G6 / 160
For deep aeration and removal of compactions up to 30 cm depth.

The Greens TERRA SPIKE® is predominantly used on golf greens and other fine lawns. It meets the highest requirements on work quality and operating friendliness. Along with many additional excellent performance characteristics, its working depth of up to 30 cm makes it a reliable companion for green keeper and grounds man.
Optional equipment: Full tines, hollow tines, multi-tine bearer, holding-down clamp, swath board, hydraulic roller brushes, supplementary weight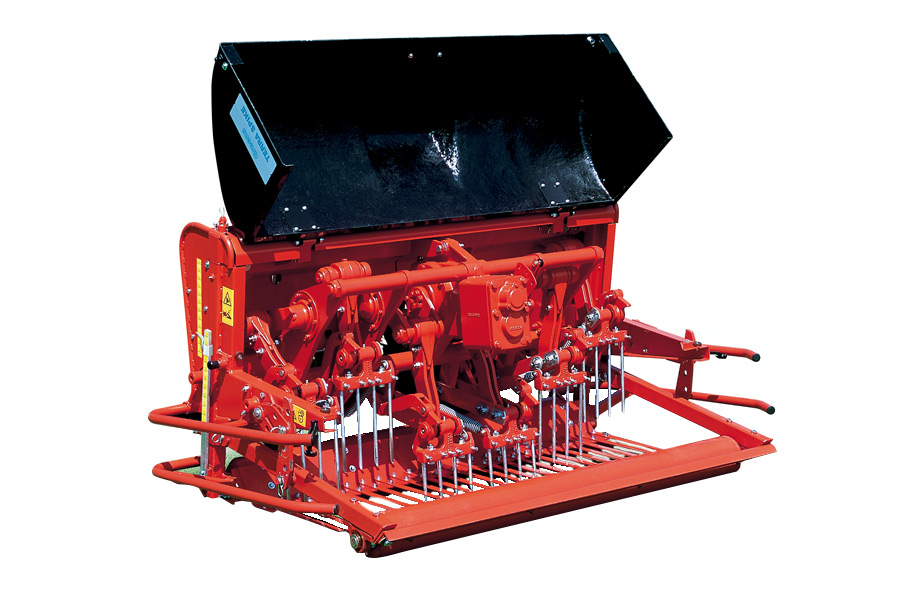 TERRA SPIKE models for Greens and Tees
Model
TERRA SPIKE SL
TERRA SPIKE GXi-6
Greens TERRA SPIKE G6/160
TERRA SPIKE GXi-8
Working width
1400 mm
1400 mm
1600 mm
1800 mm
Max. working depth with Solidtines
200 mm
250 mm
275 mm
250 mm
Max. working depth with Coringtines
150 mm
200 mm
200 mm
200 mm
Weight
(Standard version without tools / accessories)
468 kg
590 kg
635 kg
890 kg
Min. required driving power
20 PS
25 PS
25 PS
35 PS
Min. Required tractor lifting capacity
600 kg
800 kg
900 kg
1050 kg
crankshaft speed rpm
280 / 360 / 460
385 / 485
175 / 232 / 290
385 / 485
Max. Working speed
3,0 km/h
3,2 km/h
2,4 km/h
3,2 km/h
Max. area efficiency with 55 mm hole spacing
1970 m²/h
2200 m²/h
2800 m²/h
Max. area efficiency with 110 mm hole spacing
3950 m²/h
4350 m²/h
5600 m²/h
Max. area efficiency with 65 mm hole spacing
1810 m²/h
Max. area efficiency with 130 mm hole spacing
3620 m²/h
Mulit-tine holders
In addition to the wide range of tines Wiedenmann offers various multi-tine holders to ensure an even higher operational efficiency. In the Nail Board for the 5 mm and 8 mm solid tines (8 mm for G 6/160 only) with a tine length of 65 or 135 mm allows you to mount up to 24 tines.
Tine Holder
QuickFit: The nail board is easily and quickly mounted using the tine mounting and demounting system of the tine holder.
Nail Board
For exchanging tines the nail board is released through two screws, the tines are exchanged and the board is mounted again. Quick and easy.