For deep aeration and removal of compactions up to 40 cm depth.
The TERRA SPIKE® XP is distinguished by its work depth of up to 40 cm, its working speed, the exceptional quality of work and the ease of operation. With two scales and three cranks, you always have the central depth adjustment and central incision angle adjustment under control.
A robust 3-gear transmission permits you to exactly set the desired hole spacing harmonised to the desired working speed and number of tines.
Optional equipment: Solid tines, cross tines, coring tines, multi-tine holder, turf retainer, core swath board, carriage, hydraulic roller brushes, hydraulic depth adjustment, supplementary weight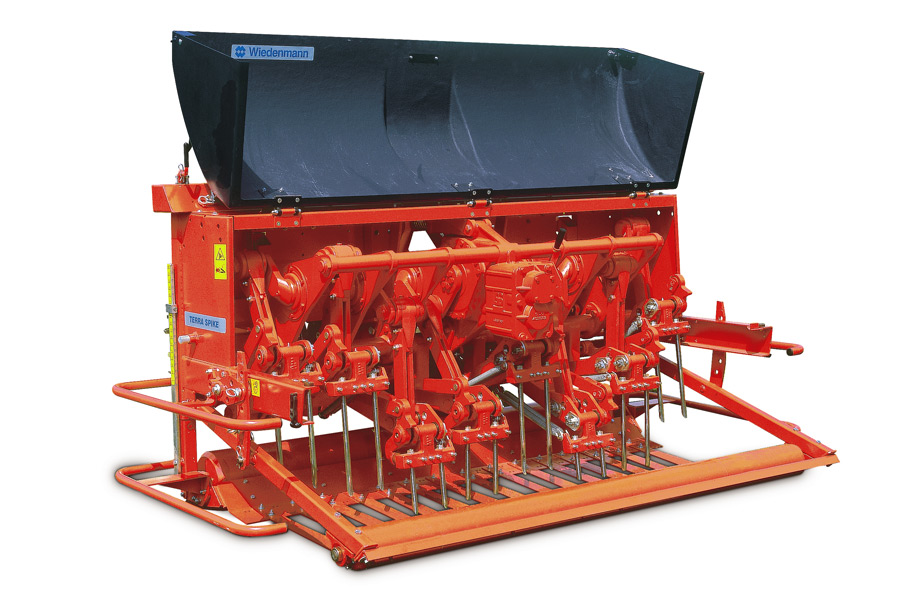 TERRA SPIKE models for Fairways und Sports fields
Modell
TERRA SPIKE XP-6
TERRA SPIKE XF-6
TERRA SPIKE XD-6
TERRA SPIKE XP-8
TERRA SPIKE XF-8
TERRA SPIKE XD-8
Working width
1600 mm
1600 mm
1600 mm
2100 mm
2100 mm
2100 mm
Max. working depth with Solidtines
400 mm
220 mm
275 mm
400 mm
200 mm
275 mm
Max. working depth with Coringtines
250 mm
200 mm
200 mm
250 mm
200 mm
200 mm
Weight
(Standard version without tools / accessories)
960 kg
1016 kg
1098 kg
1200 kg
1216 kg
1320 kg
Min. required driving power
30 PS
40 PS
40 PS
40 PS
50 PS
50 PS
Required tractor lifting capacity
1200 kg
1310 kg
1390 kg
1500 kg
1590 kg
1690 kg
crankshaft speed rpm
145 / 165 / 187
345 / 410 / 485
345 / 410
145 / 165 / 187
345 / 410 / 485
345 / 410
Max. Working speed
1,5 km/h
3,8 km/h
3,2 km/h
1,5 km/h
3,8 km/h
3,2 km/h
Max. area efficiency with 65 mm hole spacing
1200 m²/h
2950 m²/h
2500 m²/h
1575 m²/h
3930 m²/h
3400 m²/h
Max. area efficiency with 130 mm hole spacing
2400 m²/h
5900 m²/h
5000 m²/h
3150 m²/h
7870 m²/h
6700 m²/h